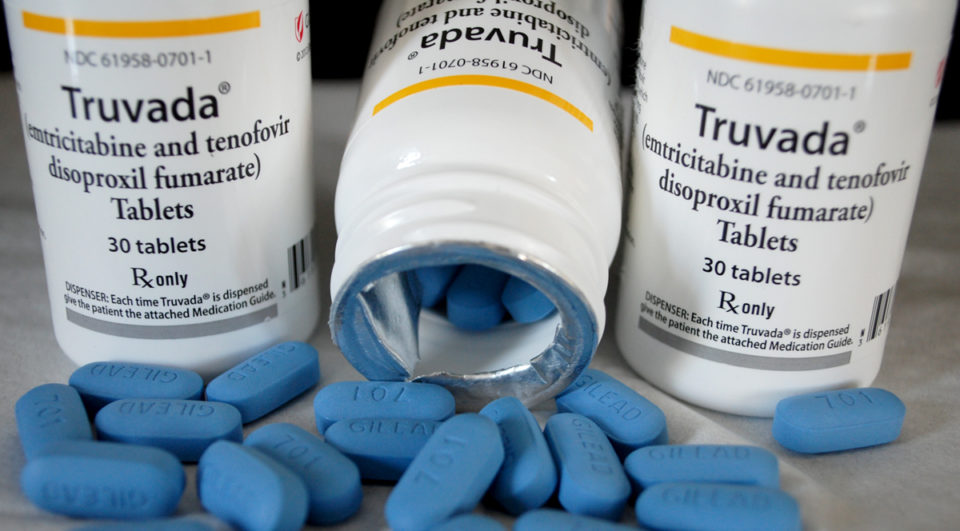 Should a biotech giant holding a valuable patent be forced to give it up if doing so would serve the public good? 
That is the question at the center of a mounting debate over Truvada, the only FDA approved HIV prevention treatment.  Critics say Truvada, manufactured by Gilead Sciences is unduly expensive and should be available to all.  When taken regularly, PrEP is greater than 90% effective, according to the Center for Disease Control.  But Truvada is expensive; Gilead charges between $1,600 and $2,000 for a month's supply of a pill that can be manufactured for a fraction of that amount.  The cost of Truvada in the U.S. is largely due to patent protection.  Across the world, where generic Truvada has long been available, the cost for  pre-exposure prophylaxis (PrEP) is roughly $25 per month.
Although Truvada is covered by insurance, and Gilead offers coupons to lower the cost, Gilead faces increasing demand to make Truvada more affordable – and calls that federal regulators should force them to do so.
The issue becomes even more murky when the role of grant money is considered.
In order to see just how complicated government and private company collaborations can become, some background is needed.  Gilead began marketing Truvada to treat people who were already infected by HIV after FDA approval in 2004.  Around the same time, CDC researchers were investigating methods to block HIV from infecting healthy people, even if they engaged in unprotected sex.
Thomas Folks and CDC researchers spent years developing a treatment to block deadly HIV in monkeys based in the U.S. Centers for Disease Control and Prevention lab; Gilead provided Truvada doses free of charge to test in the monkey model at CDC labs.  Robert Grant, an AIDS researcher, proved the treatment worked in people who engaged in risky sex.  Together, their work created a new use for Truvada: preventing HIV infection.  The work laying the foundation for the use of Truvada as a preventative was almost fully funded by U.S. taxpayers, with the help of over 50 million dollars in grants.  So why the controversy?  The U.S. government has not received a penny from Gilead Sciences, ­Truvada's maker, which earned $3 billion from sales of Truvada last year.
Gilead argues that the government's patents for Truvada are invalid, creating a standoff between the CDC and a drug company over patent rights.  The standoff prevents public access to a drug that could potentially save millions of lives given expanded accessibility and affordability.  President Trump set a goal of eradicating HIV/AIDS by 2030; to reach that goal, the use of Truvada for PrEP needs to be far more widespread. Officials estimated in 2016 that less than 10 percent of the 1.1 million people who should be on PrEP treatment were receiving the drug; Gilead claims that has now improved to about 20 percent. 
"With the amount of effort and time and taxpayer money that went into it, for CDC and Gilead not to come to an agreement, so the taxpayer could get some of that money, is really unconscionable,'' –Thomas Folks, HIV researcher
The fight over PrEP presents a novel challenge to the interdependence of drug companies and government developed over years of collaboration and raises a bigger question question: How aggressively should the government attempt to enforce its patents against an industry partner?  At stake are thousands of inventions: The Department of Health and Human Services (including the CDC and the NIH) has patented more than 2,500 inventions created with taxpayer dollars since 1976, according to the U.S. Patent and Trademark Office.  Although intellectual-property disputes between private companies are common, rarely does the government bring lawsuits over pharmaceutical patents.
HIV/AIDS activists have been upset about the price of Truvada for PrEP for years and want the government to take a more aggressive stance against Gilead. Even though it is covered by most private and government insurance, the drug's high cost is factored into state Medicaid programs; when those programs pay for the drug, that leaves less money for education and distribution efforts on the ground, they contend.  HIV/AIDS activists and researchers say assertions about the benefits of coupons are misleading, and that obtaining Gilead's coupons for Truvada for PrEP is a cumbersome process.
Their complaints are part of an increasing wave of dissatisfaction and outright anger over drug companies reaping hefty financial rewards off the backs of taxpayer-funded research.  The cries over pricing, patent rights and the role of taxpayer money have also stoked political anger over high drug prices. Consumer advocates and members of Congress have stepped up demands that the government exercise its rights to license generic competition or imports during shortages or unwarranted price spikes; several bills would enhance "compulsory licensing'' provisions.  Online petitions such as #BREAKTHEPATENT are calling for the NIH to step in and end the patent protection on Truvada.
Gilead's Truvada patent expires in 2021; it could be at least two more years before Gilead faces lower-cost competition in the United States.
{{cta('f37d0f23-db8f-4e7a-bb8d-8b80afd9fac0')}}