Problems with Prescriptions
Recent restrictions on opioid prescriptions have attempted to stem the national tide of abuse and overdoses; two-thirds of the overdose deaths in the United States are related to opioids.  New Jersey just passed one of the nation's strictest laws in efforts to address the crisis.  Multiple states have passed laws limiting opioid prescriptions and more states seem poised to follow suit.  Recently, President Trump created a commission headed by New Jersey's Governor Christie to study the epidemic and suggest policy changes.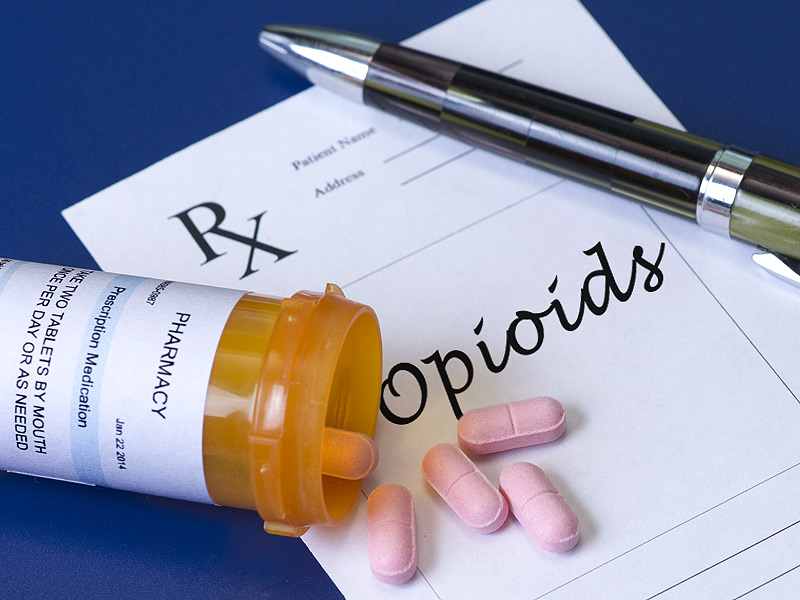 This new attention has resulted in increased restrictions on prescription painkillers, and legislation aimed at the physicians who write those prescriptions.  As prescriptions for opioids become more difficult to obtain, black market drugs are overshadowing them as a bigger overdose threat.  Deaths from fentanyl more than doubled in 2014, from 1,905 deaths in 2013 to 4,200 deaths.   The rise in heroin use is alarming, and it has been suggested that people with addictions to prescription painkillers switch to heroin because it is cheaper and easier to obtain.  Half a million Americans are addicted to heroin, and four out of five recent heroin users had previously used prescription opioids recreationally.
The overdose death rate for illicitly-obtained opioids such as heroin and fentanyl is continuously rising (see graph below), in comparison to the overdose death rate from legal prescriptions.  One interpretation of recent data suggests that efforts aimed at curbing over prescribing practices could be having a positive impact, although the problem of opioid abuse is complicated.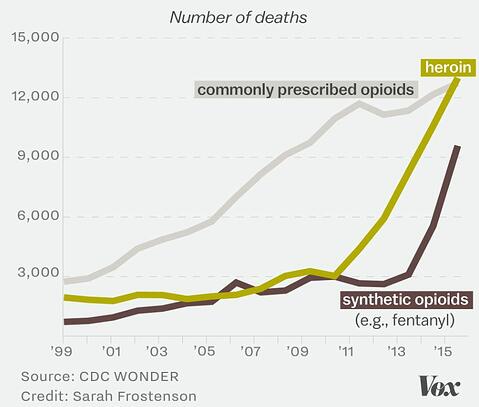 Although the recent upswing in overdose deaths is fueled by heroin and illegal narcotics, opioid painkillers have a problematic association with illegal narcotics. Research suggests that heroin and prescription painkillers have similar modes of action in the brain; abuse of opiates may increase susceptibility to addiction. According to a Centers for Disease Control and Prevention report, people who abused opiate painkillers were 40 times as likely to abuse heroin.
This similarity and potential for abuse often give physicians pause when a patient in pain comes seeking these effective drugs.  Even if the patient has never demonstrated drug seeking behavior, increased legislation and restrictions on the ability of physicians to prescribe opioids to their patients render many doctors reluctant to write prescriptions.  This leaves doctors and patients in an uncomfortable situation–what to do when a doctor feels that Vicodin is the best solution to their patient's problem?
The answer is increasingly over the counter NSAIDs, which are not always an ideal solution since they carry a higher risk of liver damage and reduced efficacy as painkillers.
Multifaceted Solution
The overdose epidemic is a complicated problem requiring a multifaceted solution.  One of those facets is detailing best practices for opioid prescribing habits of physicians.  Addiction has been long thought to be a matter of choice, but new research suggests that a single exposure to opioids in a medical scenario can have a huge impact on future opioid abuse.
A study published in the New England Journal of Medicine compared the difference in patient outcomes between a visit to a doctor who more frequently prescribes opioid drugs to a doctor with lower prescribing rates.  Patients who saw a doctor with higher opioid prescribing habits were approximately 30% more likely to become long-term users than patients who saw doctors who under-prescribed them.  The study suggests that a one-time prescription of opioid drugs could potentially affect long-term outcomes for patients.  In addition, the results of the study also suggest the opioid epidemic is strongly linked to institutional prescribing patterns rather than "problematic" patient behavior.
As a result of these factors, tackling the overdose epidemic will likely require not only curbing doctors' over-prescribing practices, but also lessening the stigma associated with drug use and addiction.  Some researchers have even suggested a completely new model to curb the burgeoning problem of addiction–treating addiction not as a moral failing or a disease, but as a learning disorder.  Some treatment centers have reported success with the use of cognitive behavior therapy as a treatment for addiction, although the model is in the early stages of development.
According to Michael Bottecelli, the former White House Director of National Drug Control Policy, "The prescription opioid and heroin epidemic continues to devastate communities and families across the country." He blamed the devastation in large part due to the lack of effective treatment available for substance abuse.  In order to prevent the continued rise of opioid abuse and overdose, doctors, the public and legislators must work together to develop and implement effective solutions to an ongoing crisis.
{{cta('f37d0f23-db8f-4e7a-bb8d-8b80afd9fac0')}}