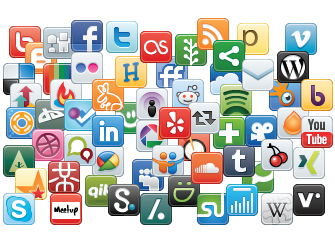 Over the past decade, there has been a huge shift in the way that businesses and consumers use social media.  Society is undergoing rapid and dramatic change, fueled by an exponential rate of technological innovation.  This has an enormous impact on the pharmaceutical industry which is in a unique position to reap the benefits of increased sales, revenue and power by augmenting their technological capital.  One of the most effective methods to leverage this change is using social media, which leads us to the question:
Can social media be a game changer for pharma?
According to a recent publication by McKinsey, Google and The Wharton School, the answer is a clear "yes."  Pharmaceutical companies are neglecting a major opportunity to grow their brands: social media.
"Today's commercial mix should reflect the fact that people are now viewing digital channels close to 50 percent of the time, and, even more importantly, that those people seek real engagement in regards to their care."
One of every twenty Google searches is for information regarding health care, which gives drug companies the ability to provide information while engaging patients on a level not previously possible.  According to a recent study, since 2013, the average number of tweets by pharmaceutical companies has gone up by 530 percent, with the top posters increasing their Twitter followers by nearly 300 percent.
Although many firms are incorporating social media, many are uncertain about entering the social landscape.  Without proper planning, controls and staff training, drug companies have a lot to lose: potential fines, sanctions and irreversible damage to their reputation. Social media is changing the landscape of communication, and it is time for pharma to be proactive, leveraging new tools to drive business strategy, collect data and inform key marketing decisions. Before your company jumps into social media, there are some key points to consider:  nothing on the Internet ever goes away, and social media is not the Wild West, where anything goes.
Foot in Mouth Disease:  Prevent Adverse Events Before They Happen
Internet savvy patients are utilizing social media as a platform, sometimes with surprising efficacy.  Darlene Gant, a woman with Stage 4 breast cancer, successfully used youtube to plead her case with the FDA for access to pertuzumab, a cancer drug under investigation at the time.  A few days after a video of her reading letters to her young son was posted online, Genetech, the manufacturer agreed to provide pertuzumab to Darlene through compassionate use.  On the brink of death at the time of her video, the treatment gave her an additional two years of life and generated an overwhelmingly positive response towards Genetech.
Publicity and public opinion can easily swing the other way, however, as shown by the recent experience of the Cleveland Clinic which experienced a barrage of negative publicity over Dr. Neides (a doctor employed by the hospital) blog posted on a news site which was perceived as anti-vaccine.  After he questioned both the safety of adjuvants and preservatives in common vaccines, as well as the vaccine schedule, social media exploded with controversy.  Soon after, he published a statement saying that what he REALLY meant was to emphasize the safety of vaccines.  The CEO of the Cleveland Clinic waded into the fray, addressing the controversy with employees and warning them to keep their personal views separate from hospital policies.
The take-home message is clear:  despite the saying "All publicity is good publicity," in the case of social media, that is simply not true.  Bad publicity can spread like wildfire through social media, and be extremely difficult to contain.  
Yes, They Are Watching You:  Adhere to Industry Regulations
The FDA is not unaware of the presence and power of social media, and is scrutinizing pharmaceutical companies and their online claims more thoroughly.  Increasingly, companies are being held responsible not only for their direct posts but more subtle uses as well.  For example, a recent FDA warning letter to Zarbee's Naturals scolded the company for not only claiming to treat unproven conditions such as coughs  but for the company's Facebook "likes" and tweets:
"Your products are not generally recognized as safe and effective for the above-referenced uses and, therefore, these products are 'new drugs'," according to the warning letter from the FDA.  The FDA is taking social media actions seriously, even released guidance for how the pharmaceutical and medical device industry should communicate using social media.
 "In today's world, in addition to traditional sources of medical product information, patients and health care providers regularly get information about FDA-regulated medical products through social media and other Internet sources, and those technologies continue to evolve."
                                                                                                  – Thomas Abrams, director of FDA's Office of Prescription Drug Promotion
Following the current FDA guidance will help your company stay compliant with regulations, and prevent even bigger problems down the road.
Minimally, pharma must adjust to these changes, too.  In the best case, business stands to profit from these changes as drug companies revolutionize the old business model, pairing with patients to expand business opportunities while delivering superior patient care.  
{{cta('f37d0f23-db8f-4e7a-bb8d-8b80afd9fac0')}}