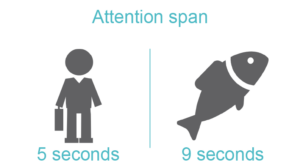 Social Media and Attention
"The chains of habit are too weak to be felt until they are too strong to be broken."
-Samuel Johnson
Our Declining Attention Spans
The recent publication of Gloria Mark's recent book: Attention Span, Find focus, Fight Distraction[1] underscores a major shift in society.  The average attention span of American adults, according to her studies, has dropped from about 150 seconds to just 44 seconds since she began taking measurement in the 1990's.  This is no anomaly, either: other researchers have corroborated her results and have painted an abundantly clear picture of our diminishing capacity to pay attention[2].
Does that sound like a problem?  It can be: since we now digest so much material online, and since lots of jobs involve using the internet, there's always the possibility of efficiency lost to distractions.  Research suggests that typical American workers spend more time at their desks than ever before,[3] but the average amount of time spent in an attentional state that can best be described as deeply focused is in fact quite limited[4].  Prima facie, that sounds concerning.  What's going on?  Turns out that the answer to this question is not straightforward, because people engage with the internet for different reasons and the difference is often subtle.  Sometimes the smallest cleft is the most difficult gap to bridge.
When this is (and When it is Not) a Problem
Perhaps one reason we get distracted is because our cognitive resources are overtaxed.  Granted, this presupposes that those resources are limited, but for many reasons that idea is quite mainstream among psychologists.
In this case the answer to the above question is that people are using "time lost to distractions" to recharge their cognitive resources.  Mark develops this idea extensively in her book and bases her guidance on how to find focus and fight distraction on this idea.  The upshot is that we want to find our focus by allowing ourselves to get distracted in a manner commensurate with our internal rhythm of attention.
This concept is analogous to, and in fact dependent on the concept of circadian rhythms. We wax and wane throughout the day with regards to wakefulness, so why not with respect to our attention?  There's a little more to it, though.  It's not just an ability to maintain focus for a specific length of time, but the kinds of activities we do effectively that changes.  Being highly engaged in an activity that demands little mental effort gives our conscious (and conscientious) mind a chance to recharge.  As Maya Angelou put it:[5]
"From the time I was little… I decided there was a Big Mind and a Little Mind.  And the Big Mind would allow you to consider deep thoughts, but The Little Mind would occupy you, so you could not be distracted.  It would work crossword puzzles or play Solitaire, while the Big Mind would delve deep into the subjects I wanted to write about."
Whether we're watching TikTok videos. Checking Facebook or shopping on Amazon, lapsing into autopilot allows what Mark calls "rote attention" to take over and gives us a chance to replenish our Big, weary Mind.  Since the average American spends far more time in front of their computer than ever before,[6] and indeed averages ten hours of screen time every day, this is more important than ever before.  If we can't always get up for a physical break when we need to, even if recharging in front of the computer screen isn't ideal, it may be the best available option.
How to Get the Most out of Your Own Attentional Rhythm
That doesn't mean that we can afford to be unaware of our social use or it's consequences, especially during our workday.  But if you sometimes find yourself spending more time on any social media sites than you expected or have a lingering feeling that you have significant lost productivity due to being distracted during the day, there might be some value in asking yourself why those things keep happening.  Questioning our motivations in a non-judgmental way can lead to some pretty important insights.  Becoming aware of where the household money gets spent is the first step in setting a budget.  Similarly, being aware of where our cognitive resources are going is the key to budgeting one's attention.  Knowing when it's easiest to maintain focus allows us to use our brains most effectively for the most cognitively demanding tasks we will face throughout the day.  And once you're aware of how you spend your time, you are much less likely to end the day with that feeling that you've wasted it.  Squandering your cognitive budget is just like squandering the household budget – easier to do when you're not carefully tracking where you spend it.
[1] Mark, G. Attention Span Toronto: Hanover Square Press. ©2023
[2] For comparison, the 150 second time is from Gonzalez, V.M. and Mark, G. "Constant, constant, multi-tasking craziness": managing multiple working spheres." Proceeding of the SIGCHI Conference on Human Factors in Computing Systems, New York: ACM Press 113-20.  2004.  The 44 second time is from Akbar, Fatema. Stress and Human-Computor Interaction in the Workplace: Unobtrusive Tracking with Wearable Sensors and Computor Logs.  PhD Dissertation, University of California, Irvine.  Numerous other studies collaborate these findings and even produce a smooth curve when tie between switching screens is plotted by year.
[3] Compare Gonzalez, V.M. and Mark, G. ibid. vs Das Swain et. al. "A multisensory person-centered approach to understand the role of daily activities in job performance with organizational personas."  Proceedings of the ACM on Interactive, Mobile, Wearable and Ubiquitous Technologies 3, no. 4 (2019): 1-27.
[4] Mark, G. et al. "Bored Mondays and focused afternoons: the rhythm of attention and online activity in the workplace." Proceeding of the SIGCHI Conference on Human Factors in Computing Systems, New York: ACM Press 3025-34.  2014.
[5] For the full interview, see Maya Angelou: How I Write (thedailybeast.com)
[6] Mintzberg, H. "structured Observation as a way to study managerial work." The Journal of Management Studies 7 (1970): 87-104 reported a mere 28% of the workday was spent at a desk, this has increased to the 90% found in Das Swain ibid.