Complex pharmaceutical modeling – made easy.
EstiDATA Cost-of-Goods software provides cost estimation and financial
modeling for complex pharmaceutical compounds and products. EstiDATA
allows users to determine cost scenarios from processes, taking into
consideration such variables as different facilities, material prices, and supply sources.
The only software suite dedicated to CMC data management.
Save time, money, and effort.
Create and maintain data on multiple projects
Link to legacy document management systems
Manage library of internal and external document links
Manage bill of materials (BOM) data
Manage custom library of materials and associated price lists
Manage custom library of facility costs
Import materials with prices and facility costs from proprietary Price Advice Library™
Manage custom vendors libraries
Build worksheets to calculate processing costs Visual diagrams for processes that automatically show calculations
Visual diagrams for synthetic routes that automatically show calculations
Visual diagrams for scenarios representing a complete cost model
Create snapshots of scenarios preserving data at chosen time
Many built in reports to visualize cost model data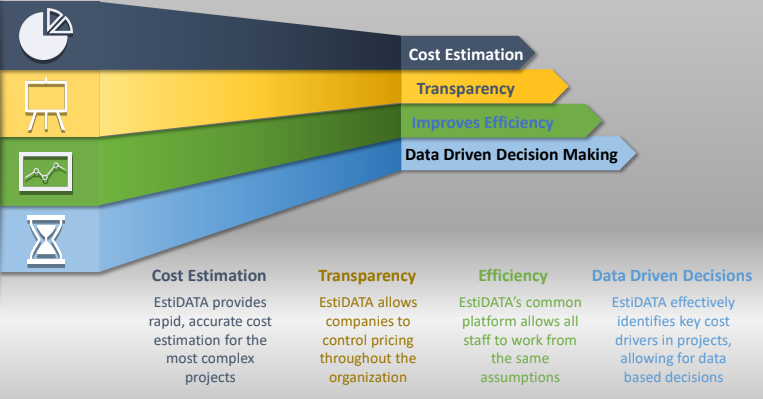 The process begins with entering specific data for materials and prices, facility costs, process information, batch data and processes, followed by creating worksheet calculations and scenario building. Then, users can derive cost ladders and sensitivity analyses that aid greatly in understanding change impacts and determining the key cost drivers of your specific manufacturing process.
Included with the software is our extensive Price Advice Library™, which is regularly updated with reagent, solvent, excipient, packaging component and process consumable costs, facility overheads, labor prices, and waste disposal fees that enhance determining the cost of manufacturing.
EstiDATA provides streamlined route selection
Optimizes by automatically considering thousands of scenarios
Determines which scenarios are most viable and accurate
Cost percentages are laid out step by step
Allows users to see corresponding costs for each part of the manufacturing process
Provides a centralized data access point that improves efficiency by simplifying organization
Creates a standardized, company-wide collaboration system
These highly valuable functions are made possible by the [Re]source™ extensive library of materials and facilities combined with an intuitive user experience.
EstiDATA improves staff efficiency by creating a common platform
Simplifies the organization of disparate information silos
Helps managers quickly evaluate cost drivers such as site of operations, vendors, etc.
Scales scenarios for determining commercial viability, and accurate "Make vs. Buy/Sell" assessments
EstiDATA also shortens project timelines by eliminating cost-restrictive alternatives, and serves as a valuable resource in negotiating pricing with relevant suppliers and vendors.
EstiDATA represents an unrivaled negotiating tool
Provides a truly comprehensive and accurate analysis of all costs associated with manufacturing your specific product
Helps executives determine whether a product should, for example, be manufactured in-house, outsourced to a CMO or sold outright
In short, EstiDATA gives pharma executives the confidence to make mission-critical decisions both accurately and expeditiously.