"I'm going to bring down drug prices," Trump told Time magazine, "I don't like what has happened with drug prices."
Although biotech and pharmaceutical stocks initially rose after the election, the budding optimism drug makers enjoyed rapidly faded with Trump's comments regarding drug prices.  President Trump is not the only one concerned about drug pricing in the United States.  The increasing cost of prescription drugs has become a source of concern for patients, prescribers, payers, and policy makers.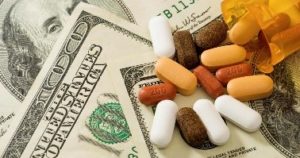 Public outrage has intensified over recent decisions by companies to levy significant cost increases, such as the EpiPen pricing scandal.  Even pharmaceutical executives are feeling the sting over drug pricing.  Recently, Chief Executive Officer Leonard Schleifer of Regeneron Pharmaceuticals Inc. and Ian Read of Pfizer Inc. have argued over the role of drug pricing in the pharmaceutical industry.  Schleifer's comment to Read over the cost of drugs: "You're not entitled to a fraction of the GDP."
Market Exclusivity and Drug Pricing
According to a recent article in JAMA, the most important factor allowing manufacturers to set high drug prices is market exclusivity, protected by FDA approval and patents.  Brand-name drugs consist of 10% of all dispensed prescriptions in the United States, yet account for 72% of spending on drugs; between 2008 and 2015, prices for the most commonly used brand-name drugs increased 164%.  Although a commonly presented counter argument to these price increases is increased costs in research and development, that can be difficult to justify when the average price of insulin soared 300% from 2002 to 2013.[1]  Critics of pharmaceutical companies contend that only a small portion of expenditures are used for research and development; the majority of revenue is spent in marketing and administration.
Robert Zirkelbach, Executive Vice President of Public Affairs at PhRMA, the trade association of the pharmaceutical industry, disputes that criticism.  According to Zirkelbach, prescription drug expenditure is projected to grow at the same rate as overall healthcare spending.  PhRMA recently issued a report analyzing the oncology treatments from 1998 to 2014; out of 96 potential treatments for melanoma, seven reached the marketplace.  This example highlights the fact that bringing a new medicine to market is a risky process, where ultimately more drugs fail than succeed.
On average it takes 10 to 15 years to develop a new drug and according to an analysis in Forbes last year, manufacturers marketing a single agent can expect to spend about $350 million prior to entering the marketplace.  Large pharmaceutical companies developing multiple products actually spend about $5 billion for each new drug.  Clearly, the process of drug development and manufacturing is both lengthy and costly, especially when factoring in the percentage of candidates that are outright failures.
Between Trump's comments and increased public concern over pricing, the pharmaceutical industry is left wondering: what is to come?
[1] Kesselheim, AS, "The High Cost of Prescription Drugs in the United States: Origins and Prospects for Reform," JAMA. 2016 Aug 23-30;316(8):858-71.
{{cta('f37d0f23-db8f-4e7a-bb8d-8b80afd9fac0')}}